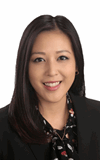 Dr. Vivian Keenan, MD
My career in medicine has always been a product of my interest in science and my passion for helping others. I decided to specialize in pulmonary medicine because I was fascinated with the complex pathophysiology of the lungs and how they affect the rest of the body. As a critically care trained intensivist I am also able to use my knowledge to provide care to patients in the hospital who are extremely ill, including those in the intensive care unit.
I see patients with a variety of conditions ranging from all sleep disorders to pulmonary disorders, including chronic obstructive pulmonary disease, asthma, emphysema, occupational lung disease, pulmonary fibrosis and lung cancer.
I perform advanced diagnostic pulmonary procedures, including endobronchial ultrasound, electromagnetic navigation bronchoscopy, and robotic bronchoscopy. I have a special interest in utilizing advanced pulmonary procedures to provide up-to-date technologies for the most accurate diagnosis and treatment, covering a plethora of conditions. I was one of the first pulmonologists in the state of NY to implement the newest bronchoscopy technology of robotic bronchoscopy for the benefit of my patients and community.
I collaborate with patients, their families, and other providers to help optimize people's care. I believe in putting patients first and feel strongly that it is my role to evaluate them, treat them, and help them understand the science behind their diagnoses.
I am grateful for the opportunity to provide exceptional care for my patients and to continue my passion for educating and instructing the community.