Rocky Mountain Pulmonology is currently providing limited patient care as we recover from a cyberattack. We are not seeing patients at this time, and the phones are down. We are doing our best to call patients directly to confirm or reschedule any upcoming appointments.
Click here to learn more.
We apologize for any inconvenience this may cause you.
Thank you!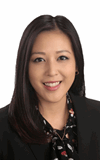 Our Provider
About Dr. Vivian Keenan, MD
Dr. Vivian Keenan is a new Pulmonary and Critical Care Physician at Mountain View Hospital and Idaho Falls Community Hospital. She previously lived in Upstate NY and was a pulmonary and critical care attending at Samaritan Medical Center.
There she was also a faculty supervisor for the Lake Eerie College of Osteopathic Medicine and for the Samaritan family medicine and internal medicine residents. Dr. Keenan piloted their new Monarch Robotic electromagnetic navigational bronchoscopy system.
She received her medical degree from UMDNJ New Jersey Medical School and then completed her residency and fellowship training in New York City; first at AECOM Jacobi Medical Center and then at NYU-Winthrop Hospital. She has had multiple poster presentations at national conferences as well as educational presentations and simulation lab teaching for residents and medical students.
Her medical areas of interest lie in bronchoscopic procedures, critical care ultrasound, lung cancer, and interstitial lung disease. She is board certified in internal medicine, pulmonary and critical care medicine.

Allergies

Asthma

Chronic Cough

Pulmonary Hypertension

Cardiac Rehabilitation

Peripheral Arterial Disease